Become a leader for development and reach further with an Australia Awards Scholarship.
Experience a world-class education in the land Down Under with an Australia Awards Scholarship.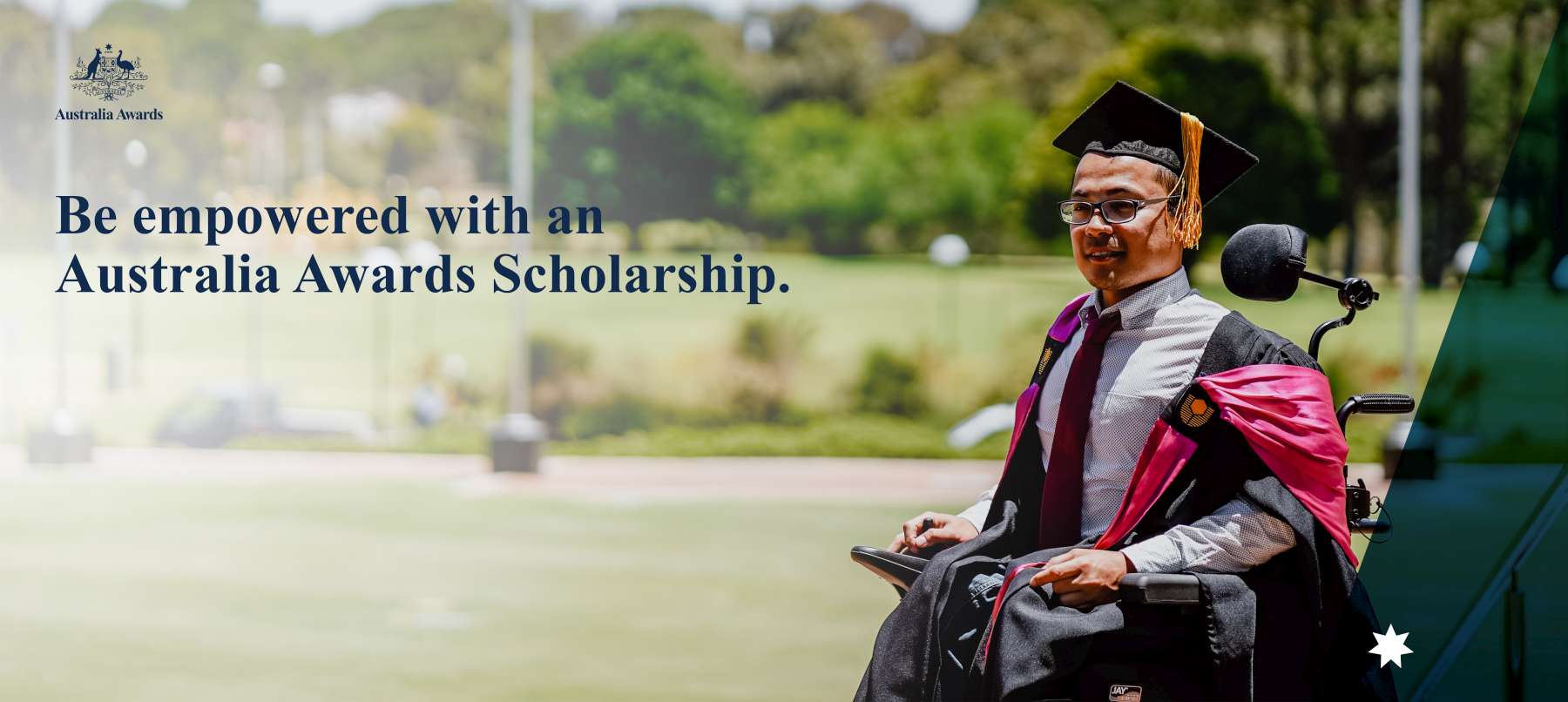 Strive for a better future and be empowered with an Australia Awards Scholarship.
Join a global network of leaders and make limitless connections with an Australia Awards Scholarship.
Embark in a unique Australian education experience, and be a Filipino global leader in research, innovation, and development
Join a network of influential leaders and make a difference with an Australia Awards Scholarship.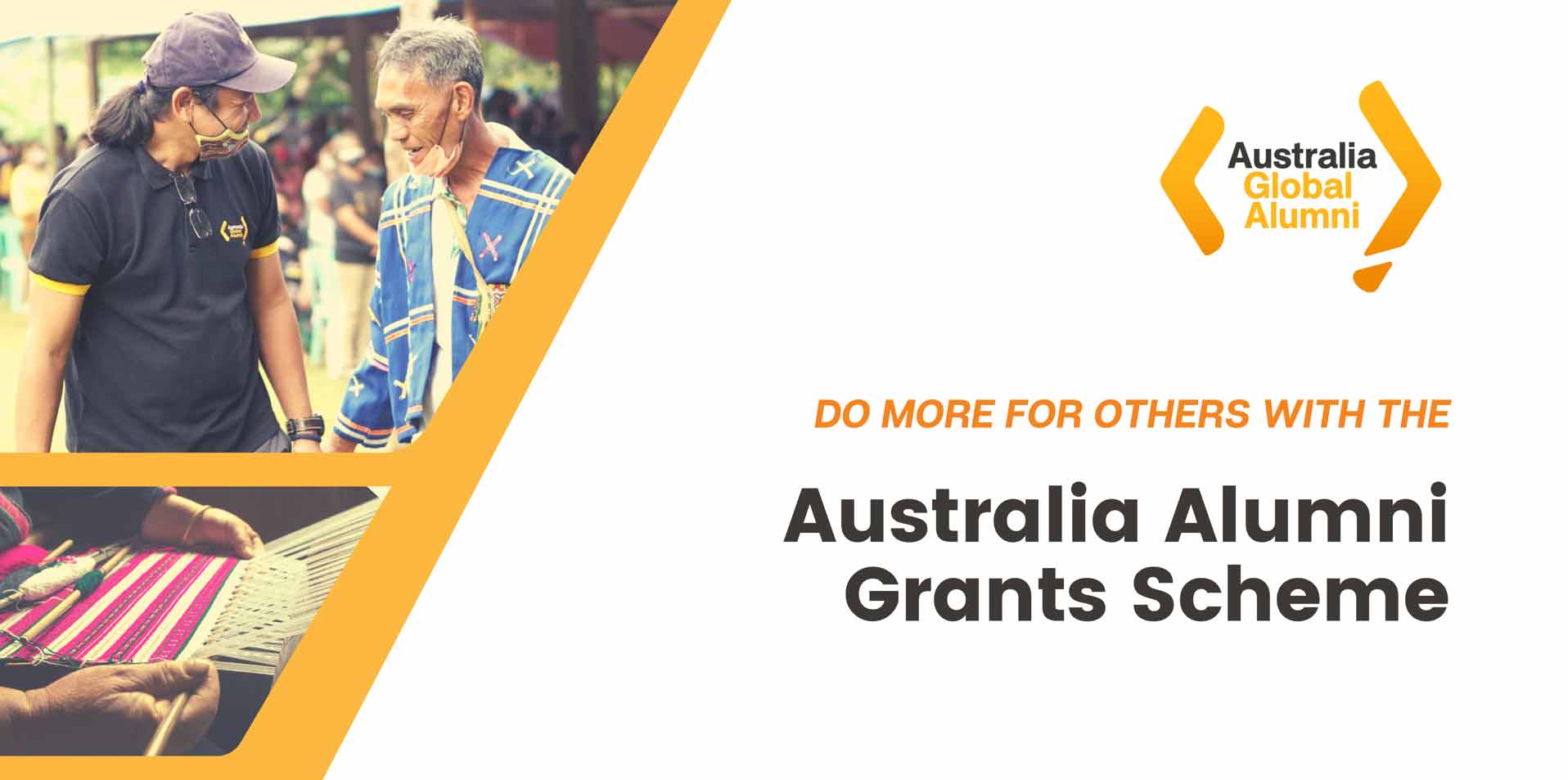 Do more for others with the Australia Alumni Grants Scheme
Here's your chance to connect and collaborate with your fellow alumni and do more for others with initiatives that matter.   Apply now and get
the chance to receive funding to support your advocacies.
Experience the possibilities with an Australia Awards Scholarship
Australia Awards is the prestigious scholarship offered by the Australian Government to Filipinos who have the potential to contribute to the country's development and become leaders in their chosen field.
Are you an applicant, awardee, partner organisation or mentor? Check out the link below for useful information on the Australia Awards Scholarships.

Be a part of the Australia Global Alumni community in the Philippines
Are you a graduate of an Australian university? Did you complete a training or a short course conducted by an Australian registered training organisation? Don't miss out on the opportunity to stay connected with your fellow alumni and build and mobilise your professional networks. Visit our alumni page to know more about Australia Global Alumni's activities in the Philippines.
Sign up to get the latest updates on the Australia Global Alumni.

News and Updates

Australia Alumni Excellence Awards now open for nominations
Nominations for the 2023 Australia Alumni Excellence Awards are now open and are accepted at australiaawardsphilippines.org until 15 August 2023. The awards recognise and celebrate Australia-educated Filipinos who have made significant achievements in their respective professions, industries, or communities.
32 Filipinos awarded with prestigious Australia Awards Scholarships
Thirty-two Filipino scholars have been awarded the prestigious Australia Awards Scholarships to pursue master's programs in Australia starting June 2023. During their pre-departure briefing, the new batch of Filipino scholars had the opportunity to connect with their mentors as well as officials from the Australian Embassy in the Philippines and Australia Awards alumni. Areas of study that will be pursued by this batch of scholars include: infrastructure and smart cities, trade and economics, humanitarian and disaster risk management, and natural resources management.

Australia Global Alumni celebrate friendship, regeneration, and wellness at the Philippines-Australia Friendship Day in Iloilo City
Over 100 Australia-educated Filipinos gathered in Iloilo City to reconnect and discuss new ways of caring for the people and planet at the Australia Alumni Network Summit 2023 – the first face-to-face summit in three years. Led by Australia Alumni Communities Philippines (AACPh), the summit, themed "Reconnect and Regenerate: Healing Our Future Together," featured knowledge-exchange sessions on regenerative principles and practices. The summit is an annual alumni-led event of Australia Global Alumni in the Philippines, which provides a platform for Australia-educated Filipinos to discuss creative solutions and innovations with fellow alumni as well as experts from Australia and the Philippines.
40 Filipino government media and communication practitioners completed short course on Emergency Broadcasting
Forty participants from Philippine government media and communication agencies recently completed the Australia Awards Short Course on Emergency Broadcasting. The training program was delivered by ABC Australia to help government media prepare for emergency coverage so that Filipinos will get relevant information before, during and after a disaster. Participants included representatives from the Philippines Information Agency, Philippines TV (PTV), Philippines Broadcasting Service (PBS), Philippines News Agency, the Office of the Press Secretary, the Bureau of Communication Services, Intercontinental Broadcast Corporation, the Presidential Broadcast staff and the National Disaster Risk Reduction and Management Council.

Make a difference with Australia Awards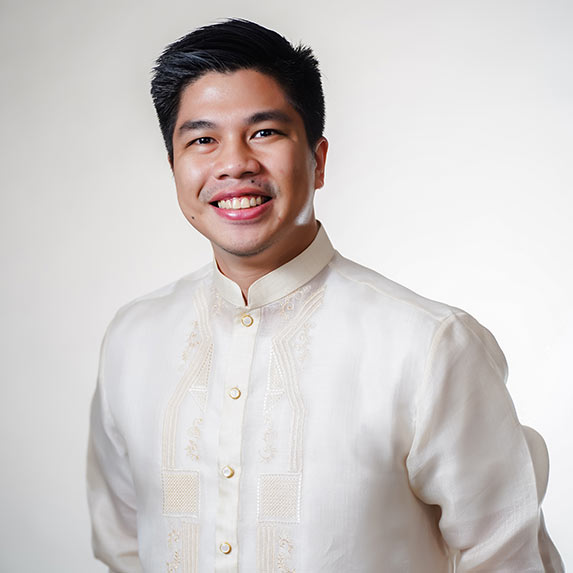 Australia Awards Alumnus Gabriel Lizada trains Davao City's local health workers as mental health first aiders during the pandemic
Gabriel's advocacy for mental health care was strengthened while pursuing Master of Counselling in Monash University. "I saw how mental health was advocated in Australia, and it was something that I would like to emulate. I took a course on Mental Health First Aid and learned that mental health first aid can be given by anyone," he said.
Inspired by his Australian education and trainings, Gabriel Lizada developed a Crisis Response Orientation Course for Mental Health Awareness. In collaboration with the Center of Psychological Extension and Research Services (COPERS), the program capacitated local volunteers on mental health awareness and psychological first aid in his hometown in Davao City.

Spotlight on the re-entry action plan (REAP)
We pursued our REAP because we needed to establish a data governance program for the 21st century in the Civil Service Commission. We will become more effective if we will be able to manage large, diverse and rapidly changing data.
Through the Australia Awards Short Course on Business Intelligence and Data Analytics, the participants from the Civil Service Commission – John, Irene, Zara, Hazel, and Maila – were equipped with strategic skills, management techniques and analytical capabilities to establish a data governance program in their organisation. They worked together to develop Bill Service: Virtual CSC Assistant, a chat bot platform that provided their clients easy access to automated, accurate, and real-time information online.
Watch this video to learn more about their group REAP.
Story Bites
Awardees

My Australia Awards Story: An Opportunity to Make a Difference
Marie Bembie Girado proved that Australia Awards are more than just a qualification, but a life-changing opportunity to make a difference. After receiving world-class education in a nourishing, vibrant, and multicultural environment, Bembie started pursuing new dreams – this time not just for herself, but for her country.
"I've had the pleasure of meeting incredible people from various backgrounds during my travels and studies. The connections I've made with people from diverse cultures have broadened my horizons and perspectives. I'm grateful for the chance to embark on this educational adventure in Australia."
Alumni

Australia Alumni Grants Scheme 2023
Eight research and development projects led by Australia Global Alumni from across the Philippines will be making a difference in the lives of Filipinos particularly in agriculture, education, disability, and social inclusion. Under the Australia Alumni Grants Scheme (AGS), Australia-educated Filipinos and recipients of training supported by the Australian Government can submit proposals for grant funding for projects that apply their Australian experiences, knowledge, and skills in addressing development issues. Grantees will receive up to Php 500,000 in funds to deliver their projects and research.
Applications for grants are accepted year-round.