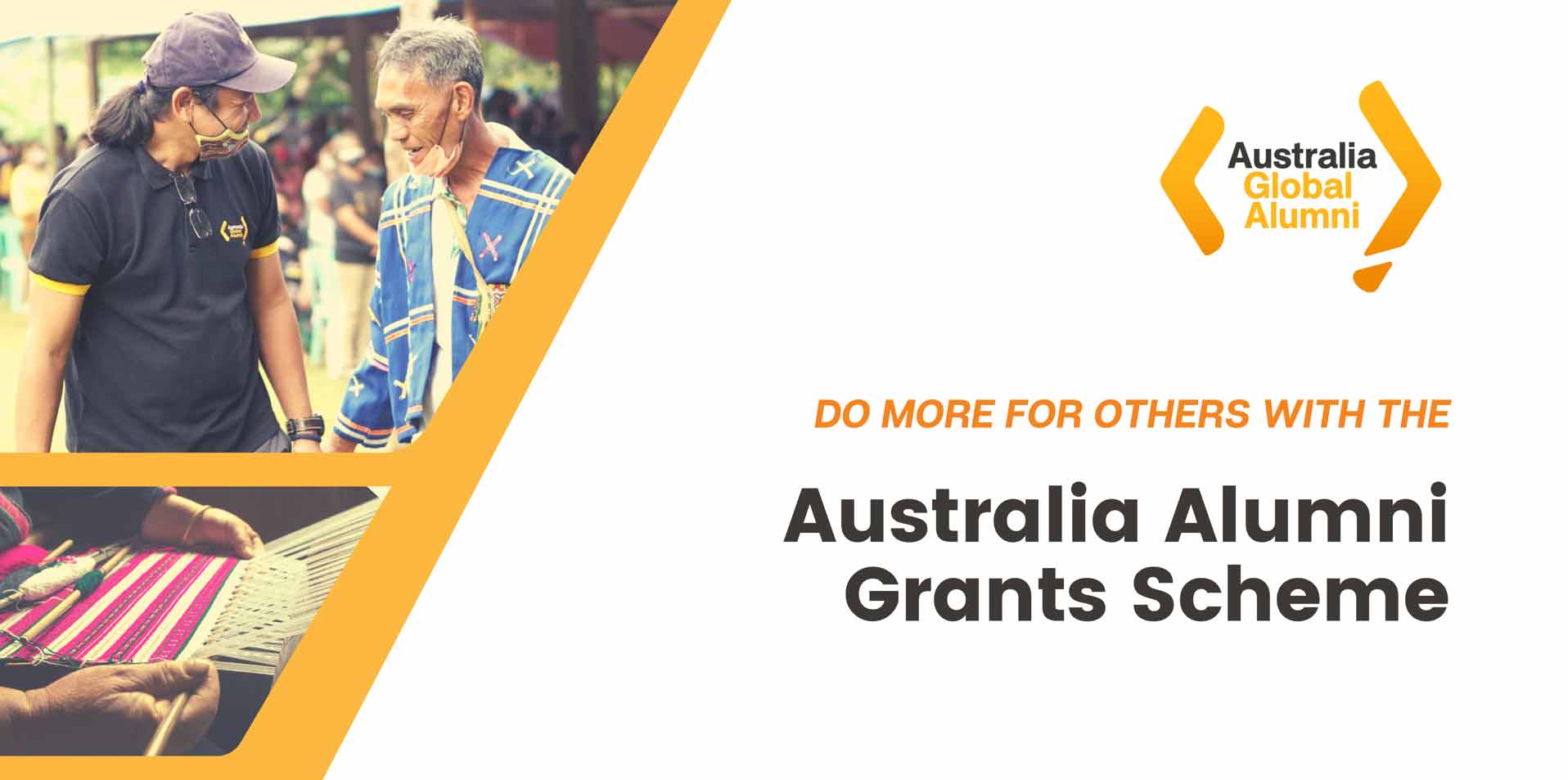 Do more for others with the Australia Alumni Grants Scheme
Here's your chance to connect and collaborate with your fellow alumni and do more for others with initiatives that matter.   Apply now and get
the chance to receive funding to support your advocacies.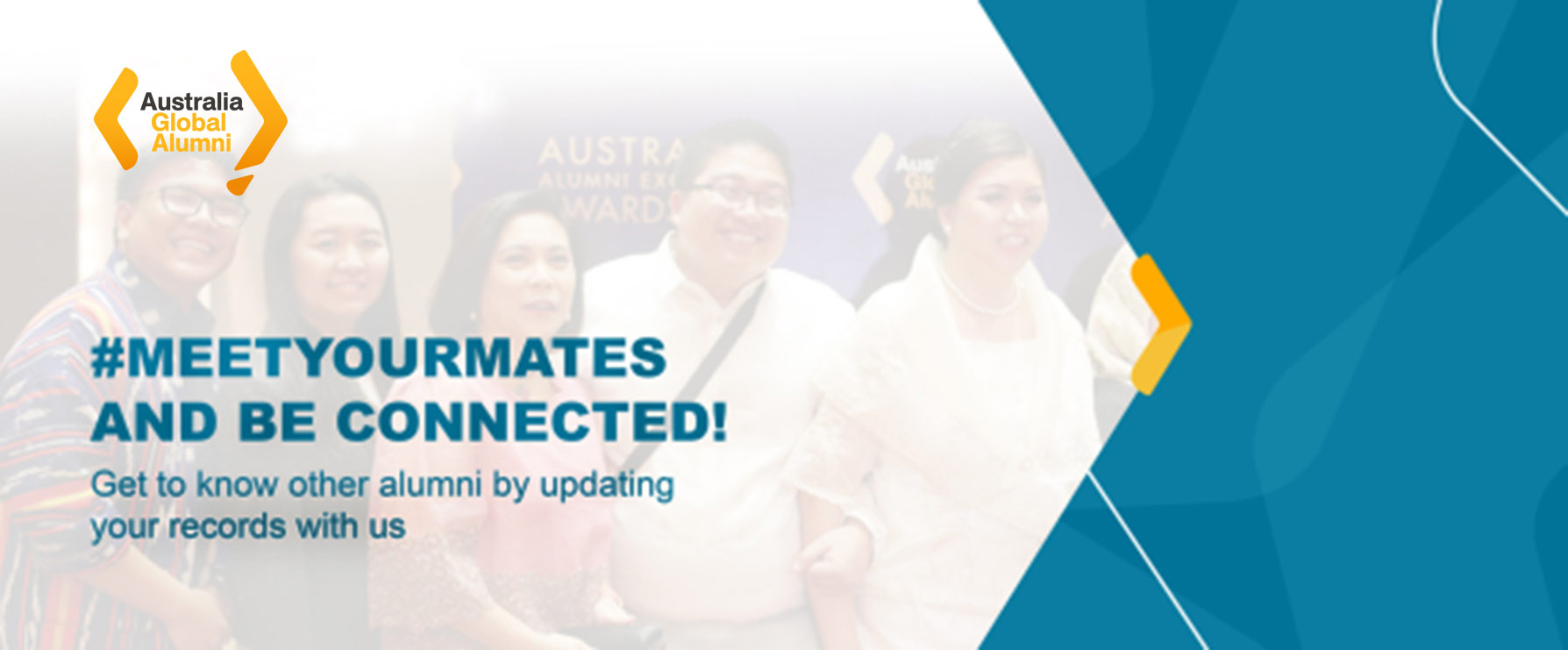 Don't miss out on the opportunity to stay connected with your fellow alumni and build and mobilise your professional networks
Register or update your information now to get the latest news and updates on our alumni community
Regional Gender Equality, Disability and Social Inclusion (GEDSI) Leadership Summit
Click here to have access to the GEDSI videos, digital social impact exhibit, and speakers' presentations during the 2021 Regional GEDSI Leadership Summit.

Connect to a World of Possibilities
Australia's global alumni are highly talented, globally mobile and empowered by a world-class Australian education. They are current and future leaders, they are influencers and change-makers. Individually and collectively, Australia Global Alumni are helping to shape the world around them.
Mobilise
Get involved with the projects mobilized for the alumni, and find out opportunities to share your learnings and skills to contribute to national development



Australia Global Alumni in the Philippines
Australia's global alumni community in the Philippines include all Filipinos who completed and/or graduated from recognised Australian educational institutions or Registered Training Organisations (RTOs), including participants in trainings and short-term courses. This includes those that have been awarded scholarships under the Australia Awards, Colombo Plan, Endeavour Awards, Australian Leadership Awards or other Australian Government scholarships. It also includes individuals who have supported their own study in Australia or those who were sponsored by institutions or organisations other than the Australian Government. The community also includes alumni of the Australian Government's In-Country Scholarship Program (ICSP) and other Australian Government-supported programs, trainings, short courses and non-formal learning opportunities in the Philippines.
Did you recently change careers? Move to another field or industry? Or got promoted to a new position? We'd love to know so we can invite you to future industry-specific events. Update your records in our secured online form.


Exciting events coming up!
We are always gearing up for exciting events for our alumni community. Find out the activities that you can be a part of this month.
Looking for alumni publications?
If you're looking for knowledge products for reference or source of new ideas, check out these publications authored by our Filipino alumni.

Connect with Alumni Groups
Want to meet fellow alumni for professional networking, exchange of knowledge and ideas, or collaboration for meaningful development projects? Check out these alumni groups and find out how you can be involved.

News and Updates

Australia Alumni Excellence Awards now open for nominations
Nominations for the 2023 Australia Alumni Excellence Awards are now open and are accepted at australiaawardsphilippines.org until 15 August 2023. The awards recognise and celebrate Australia-educated Filipinos who have made significant achievements in their respective professions, industries, or communities.

Australia Global Alumni celebrate friendship, regeneration, and wellness at the Philippines-Australia Friendship Day in Iloilo City
Over 100 Australia-educated Filipinos gathered in Iloilo City to reconnect and discuss new ways of caring for the people and planet at the Australia Alumni Network Summit 2023 – the first face-to-face summit in three years. Led by Australia Alumni Communities Philippines (AACPh), the summit, themed "Reconnect and Regenerate: Healing Our Future Together," featured knowledge-exchange sessions on regenerative principles and practices. The summit is an annual alumni-led event of Australia Global Alumni in the Philippines, which provides a platform for Australia-educated Filipinos to discuss creative solutions and innovations with fellow alumni as well as experts from Australia and the Philippines.

Story Bites

Australia Alumni Grants Scheme 2023
Eight research and development projects led by Australia Global Alumni from across the Philippines will be making a difference in the lives of Filipinos particularly in agriculture, education, disability, and social inclusion. Under the Australia Alumni Grants Scheme (AGS), Australia-educated Filipinos and recipients of training supported by the Australian Government can submit proposals for grant funding for projects that apply their Australian experiences, knowledge, and skills in addressing development issues. Grantees will receive up to Php 500,000 in funds to deliver their projects and research.
Applications for grants are accepted year-round.

Australia joins Filipino Food Month celebration with Filipino-Australian food and travel content creator Yasmin Newman
The Australian Embassy and the Australia Global Alumni in the Philippines celebrated Filipino Food Month with a series of events that highlight Filipino cuisine with a taste of Australia. To headline the celebration, the Australian Embassy has brought to Manila Filipino- Australian food and travel content creator, cookbook author and businesswoman Yasmin Newman, to share well-loved Filipino dishes using Australian ingredients from her cookbook Under the Coconut Skies: Feasts and Stories from the Philippines.
While in Manila, Yasmin met different communities of Australia-educated Filipinos for the Philippine launch of Under the Coconut Skies, which will include book signings and cooking demonstrations of Filipino dishes using Australian ingredients.

Up Close and Personal
Meet Dr Ma Soledad Antonio, 2022 Alumnus of the Year
This is my most fulfilling moment that I could serve using what I've learned from my four years in Australia and implementing this now during the pandemic, here in the Philippines.
As Director of the Bureau of International Health Cooperation at the Department of Health, Dr Antonio has been instrumental in mobilising resources from international partners to guarantee access to vaccines and medical supplies. She was recently awarded the Alumnus of the Year in the recently held 2022 Australia Alumni Excellence Award. Dr Antonio completed her PhD in International Trade at Griffith University in 2018.

Alumni Communities across the Philippines

Australian Embassy in the Philippines visits Filipino alumni communities
Australia has been working hand-in-hand with its Filipino alumni on initiatives that help deliver the shared development goals of Australia and the Philippines. During the regional visits, embassy officials and alumni discussed Australia's work across the country as well as alumni-led initiatives in addressing COVID-19 challenges.

Mateship and Bayanihan
Australia Global Alumni share stories of kindness, bayanihan, and hope in time of COVID-19
Members of the Australia Global Alumni community have been rising above the crisis by making a difference in their fields in their own little ways. If you need an inspiring story to lift you up, read how the COVID-19 crisis affected our alumni's life and work, and how they have been moved to make a change.