Do you know of Australia-educated Filipinos who are leaders, innovators or achievers in their field? Nominate them for the 2023 Australia Alumni Excellence Awards! Nominations are open until 15 August 2023.
Become a leader for development and reach further with an Australia Awards Scholarship.
Experience a world-class education in the land Down Under with an Australia Awards Scholarship.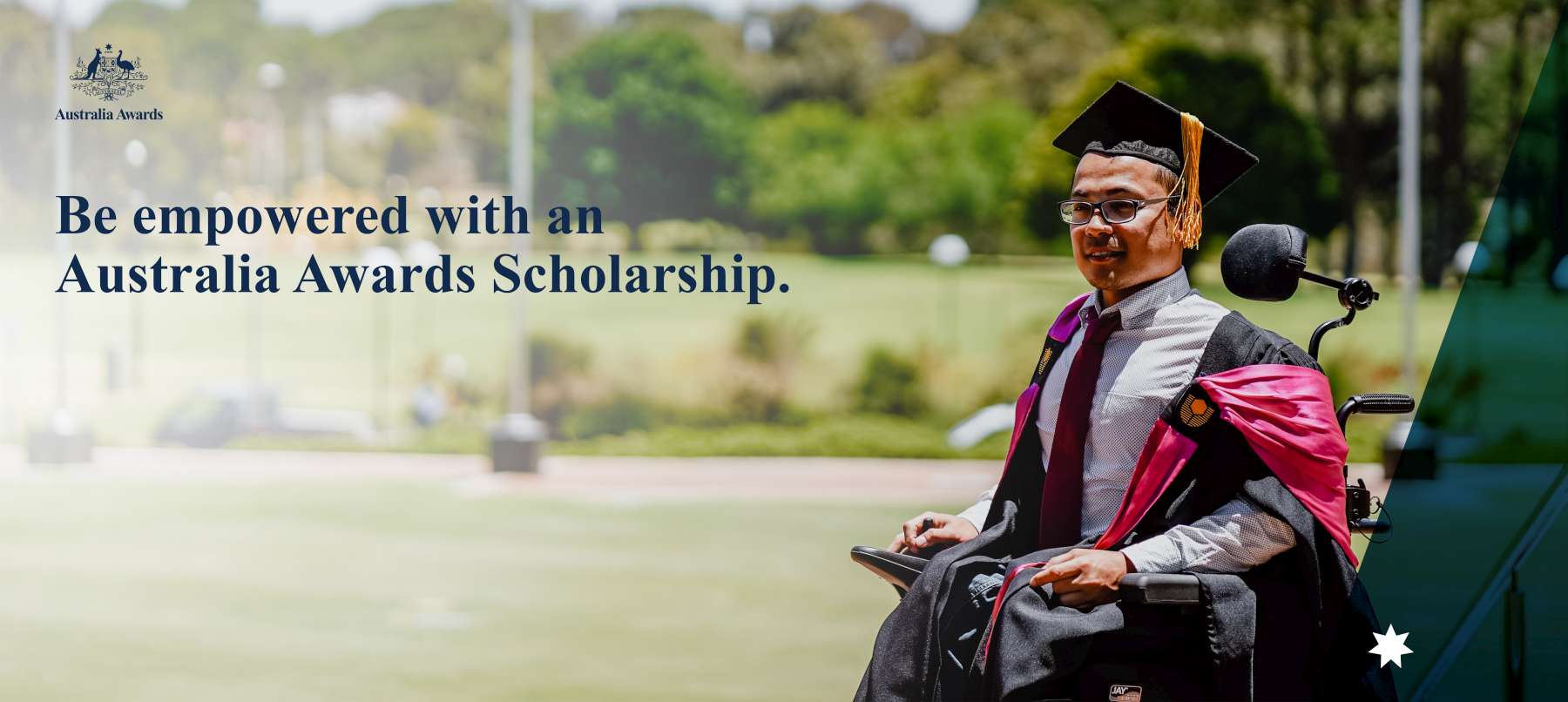 Strive for a better future and be empowered with an Australia Awards Scholarship.
Join a global network of leaders and make limitless connections with an Australia Awards Scholarship.
Embark in a unique Australian education experience, and be a Filipino global leader in research, innovation, and development
Join a network of influential leaders and make a difference with an Australia Awards Scholarship.
Experience the possibilities with an Australia Awards Scholarship
Australia Awards is the prestigious scholarship offered by the Australian Government to Filipinos who have the potential to contribute to the country's development and become leaders in their chosen field.
Are you an applicant, awardee, partner organisation or mentor? Check out the link below for useful information on the Australia Awards Scholarships.

Be a part of the Australia Global Alumni community in the Philippines
Are you a graduate of an Australian university? Did you complete a training or a short course conducted by an Australian registered training organisation? Don't miss out on the opportunity to stay connected with your fellow alumni and build and mobilise your professional networks. Visit our alumni page to know more about Australia Global Alumni's activities in the Philippines.
Sign up to get the latest updates on the Australia Global Alumni.

News and Updates

Celebrating the achievements and contributions of Australia-educated Filipinos
Manila, Philippines - The Australian Embassy in the Philippines recognised the achievements of six outstanding Australia-educated Filipinos during the 2022 Australia Alumni Excellence Awards.
Australia Awards Scholarships 2024 intake now open for applications
Manila, Philippines – Australia Awards Scholarships, the prestigious postgraduate scholarship program of the Australian Government, are now open for applications for the 2024 intake.
Australia Alumni Community in the Philippines promotes sustainability
The Australia Global Alumni community in the Philippines recently gathered to discuss sustainable solutions in communities and businesses. People and Planet: Creating a Sustainable Future Together, a knowledge sharing event organised in Davao City last December 2022, was aimed at raising awareness about on our shared responsibility to take care of our world.
Daghang salamat to our alumni speakers, moderators, and participants who joined the event!
A new batch of Filipino scholars off to Australia
Manila, Philippines – Thirty-four Filipino scholars have been awarded prestigious Australian Government scholarships to pursue postgraduate studies in Australia starting January 2023. Thirty scholars will pursue master's programs under the Australia Awards Scholarships, while four will pursue doctoral degrees as John Allwright Fellows under the Australian Centre for International Agricultural Research.

Make a difference with Australia Awards
Australia Awards Alumna Sabrina Gacad develops a volunteer-powered chat service to support women, youth and the LGBTQIA+ community during the pandemic
The increased reports of gender-based violence during the height of the pandemic motivated Sabrina Gacad to set up Lunas Collective – a feminist volunteer-powered social media helpline in the Philippines that support survivors of gender-based violence or violence against women, and people who may have concerns about family planning. With support from the Australian Alumni COVID-19 Response Grants Scheme, Sabrina and her team of volunteers piloted a chat service providing a safe space for women, youth, and members of the LGBTQIA+ to voice out their concerns on sensitive topics, including reproductive health concerns or experiences of gender-based violence, during the various stages of the lockdowns.
Sabrina completed Master in Economics at the University of Sydney. She is currently an assistant professor in the Department of Women and Development Studies at the University of the Philippines College of Social Work and Community Development.

Spotlight on the re-entry action plan (REAP)
If you have the ability to make change in your organisation, in your country, do it. It is not your gender that will dictate your future or your contributon to your organisation. It is what you can do and your heart to do it.
Meet Police Lieutenant Colonel Karissma Sta. Juana who is making a difference at the Philippine National Police (PNP). For her re-entry action plan, Karissma updated the PNP's operational procedures considering the global perspectives she gained from her postgraduate studies in Australia, including those related to gender sensitivity and human rights. She completed a Master of Security and Strategic Studies at Macquarie University in 2019.

Watch this video to learn more about her story.
Story Bites
Awardees

My Australia Awards Story: An Extraordinary Experience
Cleodette Lagata completed her Master of Environmental Management from University of Queensland in 2021. Despite living and studying in Australia during the pandemic, Cleodette was able to not only finish her studies, but also experience Australia's natural wonders. A month after returning home, Cleodette became one of the firsts in Australia and the Philippines to become Carbon Literate certified.
"As a Filipino scholar, I am most proud that I was able to carry the Philippine flag with grace and honour."
Alumni

Australia joins Filipino Food Month celebration with Filipino-Australian food and travel content creator Yasmin Newman
The Australian Embassy and the Australia Global Alumni in the Philippines celebrated Filipino Food Month with a series of events that highlight Filipino cuisine with a taste of Australia. To headline the celebration, the Australian Embassy has brought to Manila Filipino- Australian food and travel content creator, cookbook author and businesswoman Yasmin Newman, to share well-loved Filipino dishes using Australian ingredients from her cookbook Under the Coconut Skies: Feasts and Stories from the Philippines.
While in Manila, Yasmin met different communities of Australia-educated Filipinos for the Philippine launch of Under the Coconut Skies, which will include book signings and cooking demonstrations of Filipino dishes using Australian ingredients.