Become a leader for development and reach further with an Australia Awards Scholarship.
Experience a world-class education in the land Down Under with an Australia Awards Scholarship.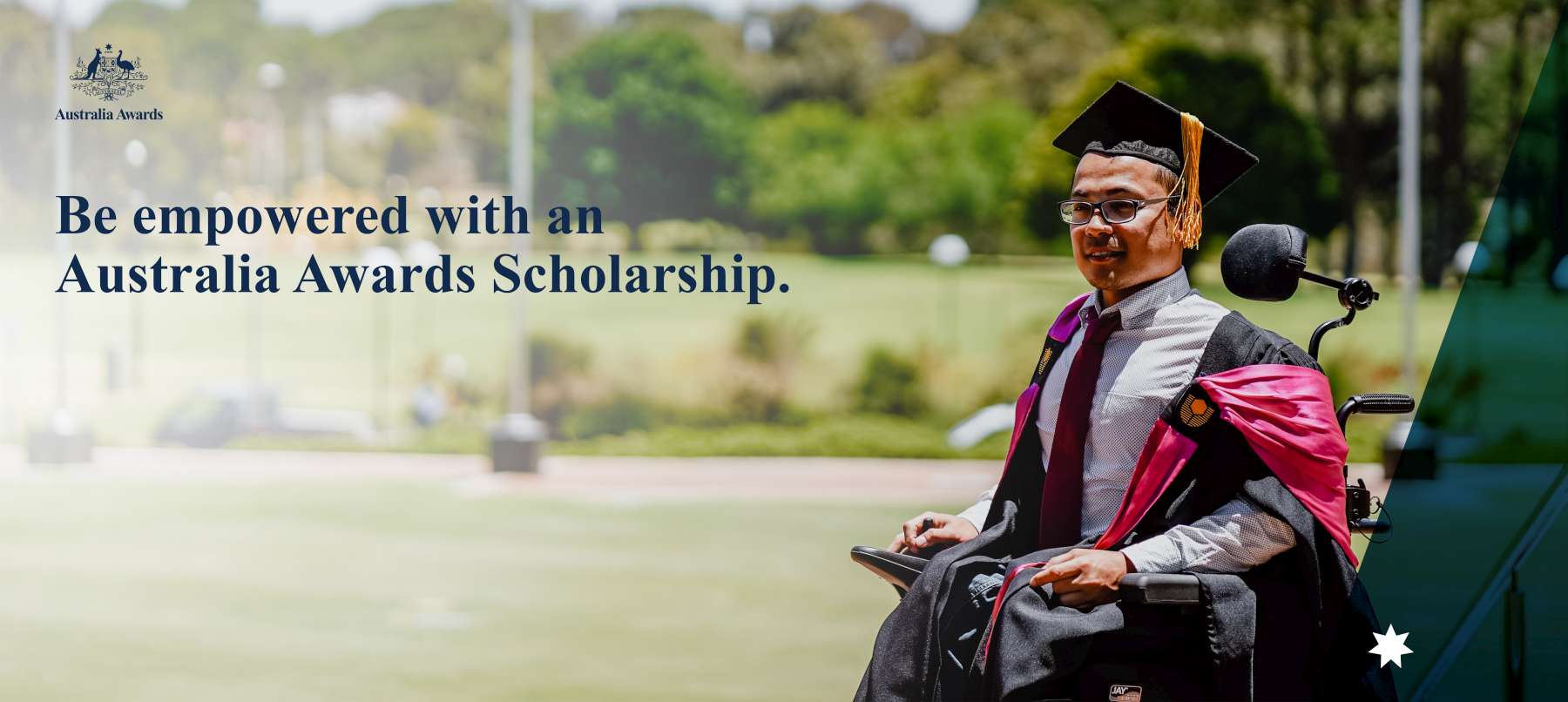 Strive for a better future and be empowered with an Australia Awards Scholarship.
Join a global network of leaders and make limitless connections with an Australia Awards Scholarship.
Embark in a unique Australian education experience, and be a Filipino global leader in research, innovation, and development
Join a network of influential leaders and make a difference with an Australia Awards Scholarship.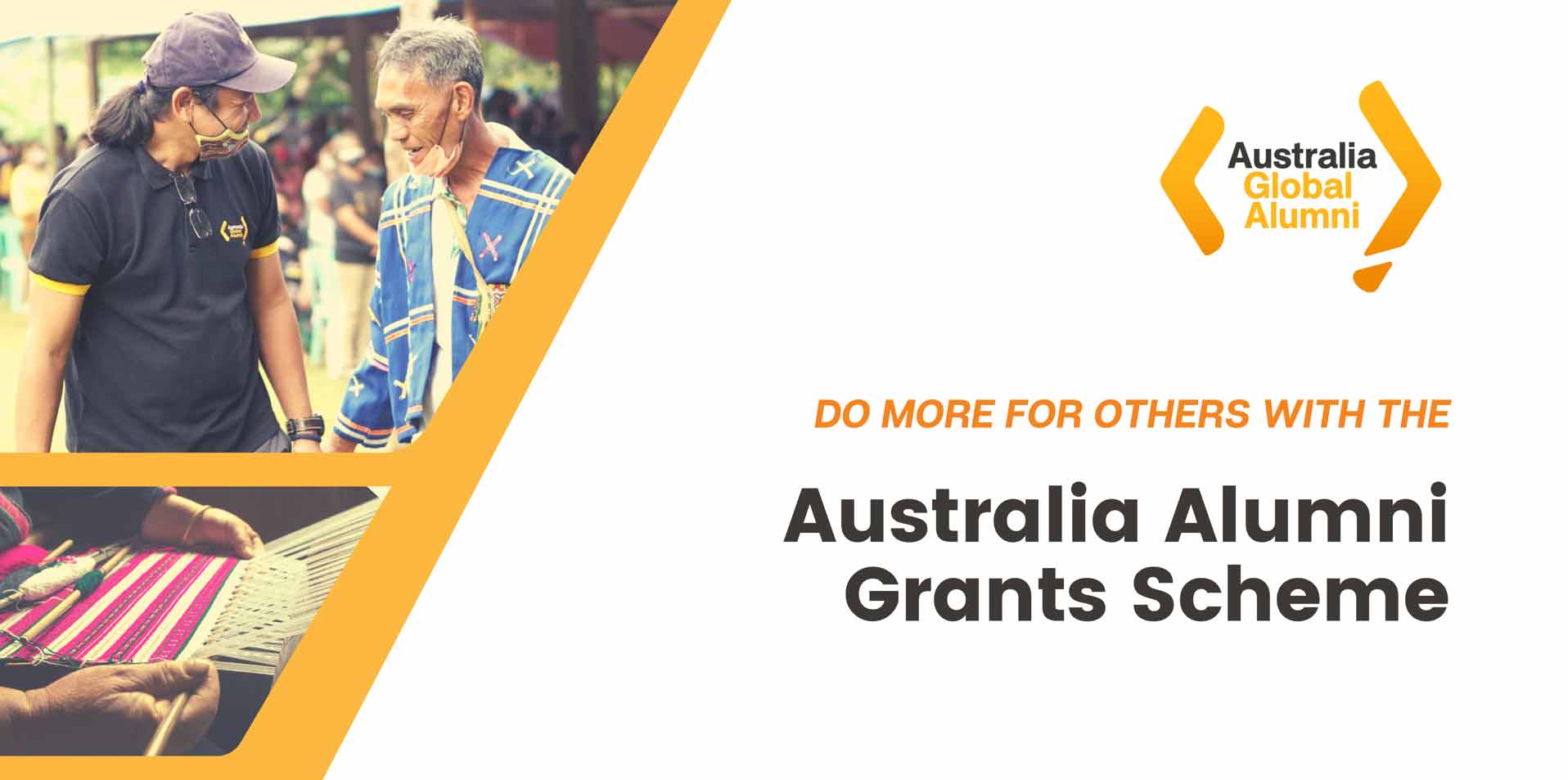 Do more for others with the Australia Alumni Grants Scheme
Here's your chance to connect and collaborate with your fellow alumni and do more for others with initiatives that matter.   Apply now and get
the chance to receive funding to support your advocacies.
Experience the possibilities with an Australia Awards Scholarship
Australia Awards is the prestigious scholarship offered by the Australian Government to Filipinos who have the potential to contribute to the country's development and become leaders in their chosen field.
Are you an applicant, awardee, partner organisation or mentor? Check out the link below for useful information on the Australia Awards Scholarships.

Be a part of the Australia Global Alumni community in the Philippines
Are you a graduate of an Australian university? Did you complete a training or a short course conducted by an Australian registered training organisation? Don't miss out on the opportunity to stay connected with your fellow alumni and build and mobilise your professional networks. Visit our alumni page to know more about Australia Global Alumni's activities in the Philippines.
Sign up to get the latest updates on the Australia Global Alumni.

News and Updates

Two Australia-educated Filipinos honoured with prestigious Global Australian Awards
Manila, Philippines – For the first time in over a decade, Filipinos have been awarded the prestigious Global Australian Awards by Advance, the Global Australian Network.
Australia Global Alumni Dr Armand Mijares and Professor Abelardo Apollo David Jr were finalists at the 2023 Global Australian Awards, which recognised the achievements of inspiring global Australians – including international alumni of Australian universities – who are innovating in their field and shaping the world.

Australia Global Alumni discuss ways to support indigenous communities
Davao City, Philippines – Over 40 Filipino alumni, stakeholders, including representatives of eight indigenous communities in Mindanao, and partners from the Department of Trade and Industry and the Philippine Eagle Foundation, recently gathered in Davao City to discuss and learn ways to support indigenous peoples (IP) communities across the Philippines. The knowledge-sharing session dubbed, Development amidst Diversity: Supporting Indigenous Communities through the Alumni Grants Scheme, were led by alumni speakers who have been making a difference in various indigenous communities through the support of the Australia Alumni Grants Scheme (AGS).

Philippines and Australia strengthen disability inclusion through strategic partnerships
Philippine policy makers recently completed a study visit to Australia, to discuss best practices in disability inclusion policies and programs.
It comes at a pivotal time for the Philippines, which is working towards enacting the disability support allowance bill – a priority legislative agenda in the Philippine Development Plan (PDP) 2023-2028.
The study visit hosted by the Australian Government is a key example of Australia's strengthened focus on inclusive and locally led, strategic partnerships. The visit included a 12-person delegation from six government agencies, who are all instrumental in achieving the Philippines' goal of creating a more inclusive society.

Grants awarded to Australia Global Alumni to undertake projects on agriculture, education, disability, and social inclusion
Eight research and development projects led by Australia Global Alumni from across the Philippines will be making a difference in the lives of Filipinos particularly in agriculture, education, disability, and social inclusion. Under the Australia Alumni Grants Scheme (AGS), Australia-educated Filipinos and recipients of training supported by the Australian Government can submit proposals for grant funding for projects that apply their Australian experiences, knowledge, and skills in addressing development issues. Grantees will receive up to Php 500,000 in funds to deliver their projects and research.
Applications for grants are accepted year-round.

Make a difference with Australia Awards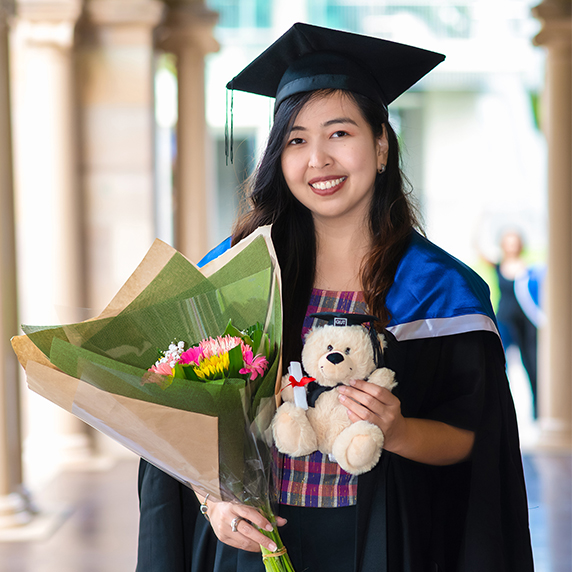 Australia Awards Alumna Imari Roble leads project that promotes inclusive education in BARMM
Throughout my time in Australia, I gained valuable insights and experiences that have shaped my understanding of genuine inclusivity and its importance in the context of education. I believe that communities play a significant role in creating inclusive learning environments for every learner and that this can only be achieved when every sector comes together and contributes
Imari "Mai" Roble of The Teachers Gallery teamed up with Education Pathways to Peace in Mindanao, the Bangsamoro Ministry of Basic, Higher and Technical Education, and other Australia Awards alumni to develop the Inclusive and Supportive Centre of Learning (ISCL) at the Timanan Central Elementary School, Maguindanao del Sur. Launched in May 2023, ISCL aims to serve all types of learners in the Bangsamoro Autonomous Region in Muslim Mindanao.
The ICSL prototype is Mai's re-entry action plan for Australia Awards. It is a first-of-its-kind innovation hub for inclusive education in the Bangsamoro region.

Spotlight on the re-entry action plan (REAP)
We pursued our REAP because we needed to establish a data governance program for the 21st century in the Civil Service Commission. We will become more effective if we will be able to manage large, diverse and rapidly changing data.
Through the Australia Awards Short Course on Business Intelligence and Data Analytics, the participants from the Civil Service Commission – John, Irene, Zara, Hazel, and Maila – were equipped with strategic skills, management techniques and analytical capabilities to establish a data governance program in their organisation. They worked together to develop Bill Service: Virtual CSC Assistant, a chat bot platform that provided their clients easy access to automated, accurate, and real-time information online.
Watch this video to learn more about their group REAP.
Story Bites
Awardees

My Australia Awards Story: An Opportunity to Make a Difference
Marie Bembie Girado proved that Australia Awards are more than just a qualification, but a life-changing opportunity to make a difference. After receiving world-class education in a nourishing, vibrant, and multicultural environment, Bembie started pursuing new dreams – this time not just for herself, but for her country.
"I've had the pleasure of meeting incredible people from various backgrounds during my travels and studies. The connections I've made with people from diverse cultures have broadened my horizons and perspectives. I'm grateful for the chance to embark on this educational adventure in Australia."
Alumni

Alumni Knowledge-Sharing Session: Supporting Indigenous Communities through the Alumni Grants Scheme
Australia Global Alumni recently gathered in Davao City to discuss meaningful ways to support indigenous communities in the Philippines. Australia-educated Filipinos who have been leading projects that empower indigenous people, through the support of the Alumni Grant Scheme, led the conversations and shared stories, insights, and learnings from their initiatives.
Thank you to all the alumni who joined the knowledge-sharing session!