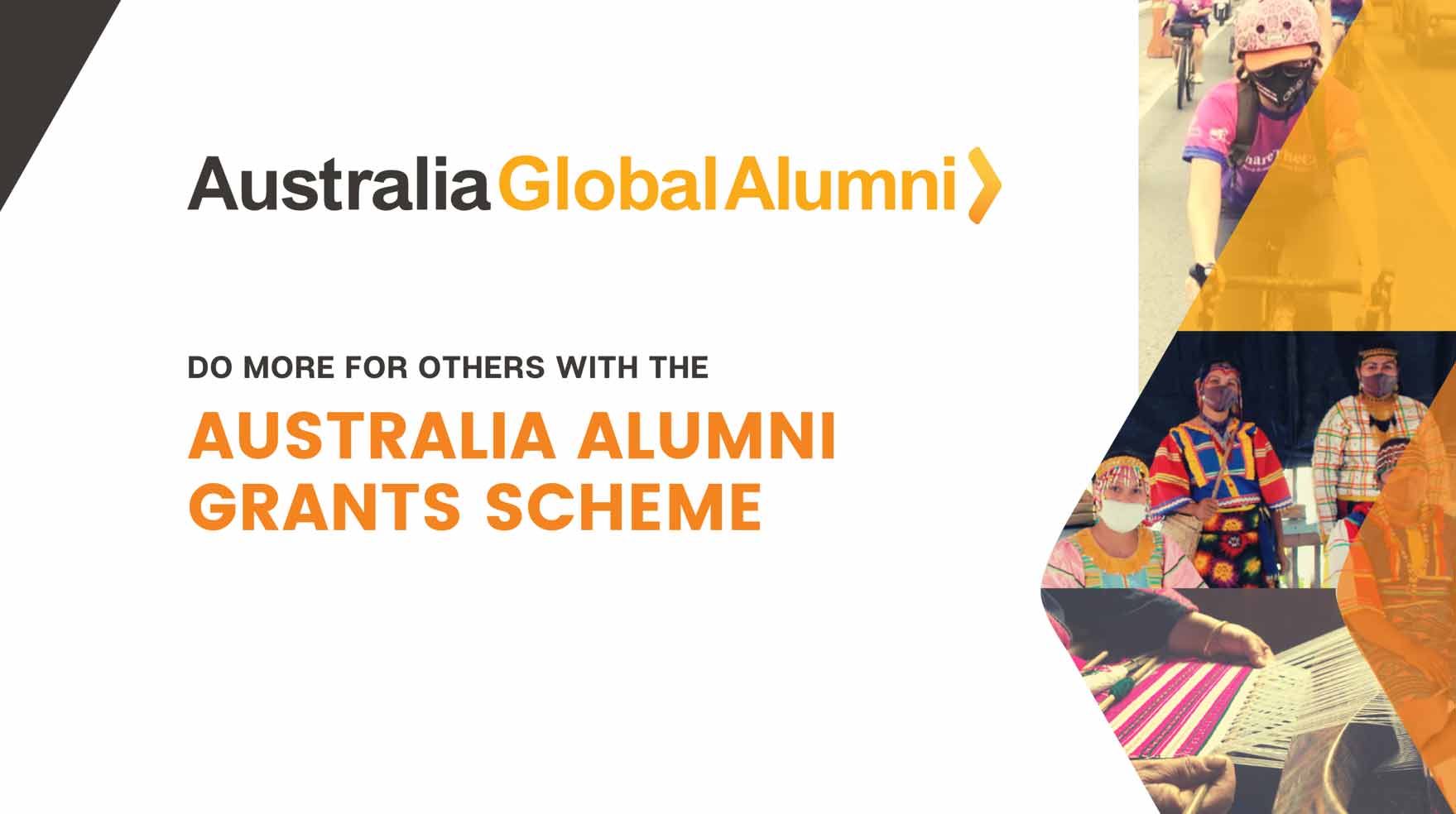 Alumni Grant Scheme
The 2023 Australia Alumni Grants Scheme supports projects and initiatives that raise awareness on social issues, implement innovative ideas, promote gender equality, disability, and social inclusion, contribute to Sustainable Development Goals, and showcase Australia's excellence as provider of quality education.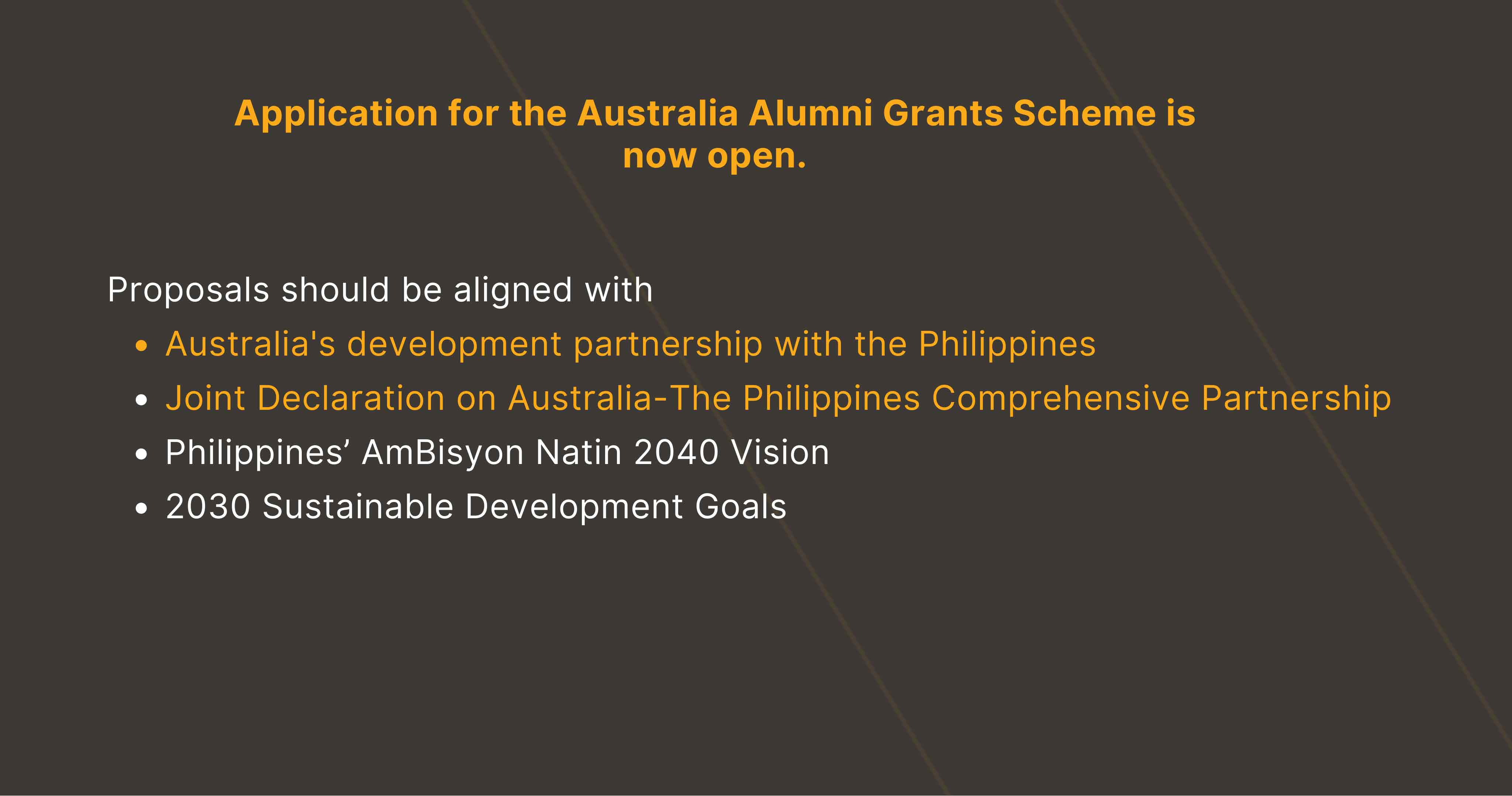 Alumni Grants Scheme Projects
Development Projects


Thermina Ann Lontoc Akram, Jhanette Lorenzo and Edna Patricia Mendoza
Lokal PH: Empowering MSMEs to thrive in the new normal
The project will equip MSMEs on the use of digital tools and e-commerce to professionally migrate their businesses to online platforms. It will also encourage Filipinos to support locally-sourced and locally-crafted products.
Maria Christina Brion-Ramos
PWCares+: COVID-19 Response Advocacy and Fair Trade Livelihood Enterprise-Support Program
The project aims to address the economic welfare of PWC community – employees, working college students and their families, and communities (IPs and PWDs) – whose access to additional income through other means have been limited by the community quarantine.

Ma Noralisa Bite
Planning for Retooling BHWs for the New Normal
The project will develop a data-driven plan for strengthening competencies among Barangay Health Workers (BHWs) who are front-liners in managing COVID-19 initiatives of Local Government Units (LGU).

Ann Marie Cunanan
Strengthening Rural Entrepreneurship through Capacity Building and Expansion of Supply Chain Reach Distribution
The social enterprise project aims to jumpstart small and micro businesses in rural areas – those ran by farming women's groups and individuals – to reach a broader market base for their products through online selling platforms and partnership with ethical and eco-friendly stores.

Sabrina Laya Gacad
Lunas Collective Chat Service and Survivor-Centered Community Care Package
The Lunas Collective Chat Service is a feminist volunteer-powered chat service. It offers a safe and inclusive space to support women and people of diverse gender identities with common reproductive health concerns or experiences of gender-based violence during the various stages of community quarantines, and the recovery period from the COVID-19 public health and socioeconomic crisis.

Jayson Ibanez
Building social-ecological resiliency among eight Indigenous communities on Mindanao Island against the COVID-19 and climate change crises
This project will assist eight indigenous communities in Mindanao to re-organise, re-strategise and implement pragmatic solutions as a response to the pandemic. The project aims to help build community resiliency by strengthening local governance and rural livelihood capitals.
Research Projects


Dr Peter Julian Cayton, Robert Neil Leong and Dr Jason Alacapa
Nowcasting and Forecasting the Outbreak of the COVID-19 Epidemic in the Philippines at the National and Local Levels
The project seeks to provide insights into the state of COVID-19 in the Philippines and its LGUs in terms of providing the estimated level of transmission and forecasted number of cases to facilitate policy-making and risk mitigation efforts.

Dr Nicamil Sanchez
The journey of Filipino Older Persons Towards the New Normal in times of COVID-19: A Mixed-Method Study
The study will explore the level of well-being, depression and experiences of older Filipinos during the COVID-19 pandemic.

Glory Dee Romo
SAVE Food Systems: Strengthening Against Vulnerabilities and Externalities of Food Systems
This project will provide an understanding of the local conditions and impact of COVID-19 pandemic to the business opportunities of Philippine enterprises involved in the production of goods and services. It also aims to provide an entry point for Australian companies to participate in this new normal for Philippine food enterprises.

Diane Faith Figueroa
COVID-19 and resilient local seafood economy for Philippine coastal municipalities
The research aims to improve efficiency in the management of the fisheries supply chain to create an enabling environment for small-scale fisheries for a more resilient and inclusive local seafood economy even during a pandemic.
Ms Leny Castillo
Davao City | Local Economic Development – Indigenous Peoples
GGSI Sustainable Product and Packaging Design Development
The project aims to develop new alternative products and packaging solutions which are sustainable and essentially eco-friendly. It contributes to addressing the environmental challenge in post-consumption reduction of waste. By partnering with the Matigsalug community, the project creates and contributes to livelihood opportunities for the community.
Mr Gabriel Sebastian Lizada
Davao City | Mental Health / Disaster Risk Reduction
Capacitating Barangay Workers on Disaster Preparedness Through Psychological and Mental Health First Aid Training
The main goal of the project is to develop two 7-man teams of psychosocial support responders for each of the five communities in Davao City that have been most affected by recurring disasters. It also aims to help barangay officials to develop mental health awareness and skills to respond for psychological first aid and psychosocial support in times of emergency and disaster situations.
Mr Joseph De Guia
Occidental Mindoro | Local Economic Development – Women / Innovation
Project CAWAN
"CAWAN" means herd or flock. The project will create a data labeling tool that will be used to train capable women in the coastal community of Sablayan, Occidental Mindoro on AI data labelling skills, which allow them to work remotely and generate income while nurturing their households. The project will be in partnership with the local government and is aligned to the Department of Information and Communications Technology's "Tech for Ed" program.

Rene Abesamis & group
Southern Negros | Environmental Sustainability
Enhancing local technical capacity to sustain monitoring of marine protected areas on coral reefs
The project aims to strengthen the technical capacity of local community members to monitor Marine Protected Areas (MPA) by employing an innovative capacity-building tactic of combining traditional approaches (workshop/training) with a noivel technology-based tool. It will benefit the local communities in at least 3 coastal municipalities in Southern Negros.
Joel Dannug
Shepherding Millennial Leaders (SMiLe)
SMILe provided leadership training and mentoring program to the officers of the RANG-AY, KABATAAN TI STO NIÑO! – an independent youth-serving organisation that provides outreach activities – cleanup drives and disaster preparedness campaigns – at the Municipality of Sto. Niño,Cagayan. The training included a structured learning experience on self-management, relationship skills, global mindedness and new media literacy; shepherding component; and leadership tour to a partner university and agency.
PA3i Southern Tagalog Chapter
Nathaniel Bantayan | Alvaro Calara | Joey Baril | Susan Aquino-Ong
Earth Warriors for Biodiversity: An Interactive Leaning Program for the Youth
The project mobilised young people for a hands-on experience on the importance of biodiversity. This included an interactive learning activity on tree nurturing at the Mt. Makiling Heritage Park where participants experienced the various steps in tree nursery operations: soil preparation, seed treatment, seedling handling and care, among others. The participants also went on an interactive biodiversity learning trail in Los Baños Laguna's Mudspring Trail – a 670m route that traverses the natural forest of the mountain.
Marikit Soliman

Development of Education Strategy and Sustainability Plans to Adopt Clean Processing Technology for Small Scale Mining in the Philippines

The project facilitated the adoption and integration of sustainable processing technology for small scale mining in the Philippines. It also educated small-scale miners and other stakeholders on the benefits of shifting to the cleaner technology of gold extraction.
Milton Medina

Indigenous Women's Livelihood and Plastic Recycling Towards Conservation of Endemic Species in Mindanao

The project established an ex-situ propagation site for endemic species of plants in Mt. Talomo, re-using the plastic wastes in both the University of Mindanao and Manobo-Clata village as material for ex-situ propagation. The project tapped the indigenous women of Manobo-Clata Tribe in Mt. Talomo Davao City who were trained in the conservation of endemic plant species.